Celebrate the first anniversary of the opening of Tokyo Mizumachi® with Shake Tree Diner!
We've teamed up with Tokyo Waterways to offer two cruises. There's a 50-minute cruise that carries you past 12 famous bridges and includes a voucher for a sandwich and drink at Shake Tree Diner. A 20-minute cruise offers a chance to experience a little time on the water with a great view of Tokyo Skytree.
The 50-minute cruise is available on June 26 and June 27, and the 20-minute cruise is available on weekends from June 12 to June 20.
Take a chance and change your perspective. You might be amazed at what you discover when viewing the familiar Tokyo scenery from a boat on the river. See Tokyo's old history and new culture by cruising the Sumida River!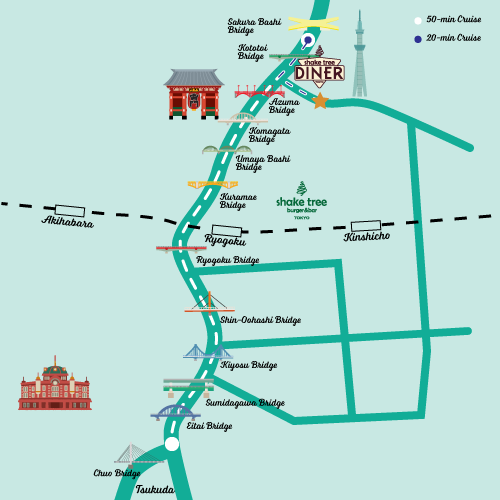 ---
Also, for the 1st anniversary of Tokyo Mizumachi®, we're offering a special menu item. Our Chopped Steak Sandwich (¥ 1,800 tax included) will only be available from June 7th to 30th. This medium-rare delight consists of chopped beef shoulder loin and cheddar cheese with onion BBQ sauce and mayonnaise.
We look forward to celebrating Tokyo Mizumachi®'s 1st anniversary with you!