Thank you for visiting Shake Tree.
Following the recent government announcement of the state of emergency, we will be changing our business hours at both of our locations.
New hours will start new hours on Friday, January 8th.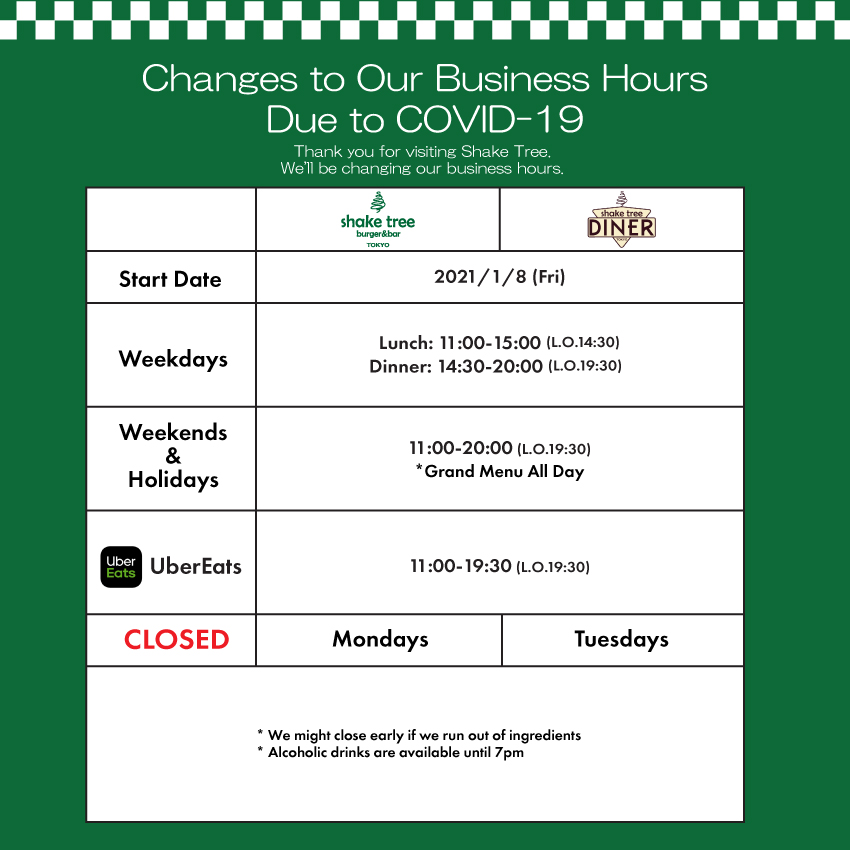 At both locations, we are required to stop serving alcohol at 19:00 and will be closing at 20:00. In addition, please note that either location may close early if we run out of ingredients.
Please be assured that we will continue to take thorough measures to prevent the spread of COVID-19 to our customers and employees.
With your cooperation, we will continue to implement the following safe practices:
Social distancing will be maintained by reducing the number of seats at the bar counters and in the dining areas. This may increase the wait time for seating, but it is an important safety measure.
Thorough monitoring of our staff's physical condition and practices such as temperature measurement, diligent hand washing, gargling and method of commuting.
Hand sanitizer available when entering both locations.
Increased, regular cleanings of doorknobs and restrooms.
Use of masks by all staff members.
Regularly opening and closing the door to improve air circulation.
In addition to the above, we may ask for your cooperation with other safety measure and we appreciate your help and understanding.